What people say about us
For 25 years, Portable Power have been helping mechanics do one thing...start engines, time and time again.
Here is a small collection of the reviews and feedback that we have received.
For 25 years, Portable Power have been helping mechanics do one thing...start engines, time and time again.
Here is a small collection of the reviews and feedback that we have received.
"Never had a single Issue with it. Never lost power. Battery is as good as you get!"
"One of the best on the market, 5 years old and it's still 100% working perfectly"

"Best on the market, have 2 of them, one 5 years old and still going strong, will start almost anything"
Portable power is the best. I've used lots of times on cars with dual batteries like land cruiser, pajeros and start car with no problem. Also good when you are programming ecus or doing electric handbrake maintenance mode, don't have to spend time with extension leads and battery charger. Great tool."
"Brilliant service from the first phone call to arriving and doing exactly what it's meant to. Originally enquired as my 12/24 hiltapack wouldn't start a completely flat 2.4transit. Within seconds it was up and running with porta power. Will 100% recommend to anybody in the trade."
"Long term reliability. Easy to use. I've had an early unit purchased through popular tool supplies man for over ten years. I lost it for a year when it was put in storage by mistake and when I found it It was totally dead so I left it on charge and gave it a couple days and it charged up perfectly and has saved my rear so many times since. Would definitely purchase replacement battery or new pack but would be sorry see to this one go!"
"The service I received from portable power was unbelievable and something I've never really experienced before. I mainly dealt with Paul and now have a reliable jump pack that I know I can trust to do the job, he literally went above and beyond to make sure I had everything I needed!

Service from the company in general was second to none.

Thank you very much! 😎"
"I got a snap on one and someone lost it, so I got a new one from the snap on man for £300 and all it says on it is portable power, I thort he had ripped me off, but now I no its you who made them in the first place, that's good to no, it better than my old snap on one and only take 3hrs to charge"
"Unbelievable service. Highly recommended."
"The best jump packs, no doubt about it."
"Best jump pack, starts my 4.2 jag from dead"
"Had my 2 packs picked up yesterday, today dropped off & got a phone call to say they have already been done and I will have back on Friday excellent service and nice people to deal with."
"Wow! Talk about service."
"Brilliant service, fast turn around - repaired even though snap on said not fixable, highly recommended"
"New pack turned up next day, superb piece of kit and very well made. We charged it up and got a V6 Mercedes-Benz ML going that's been stood for months when all other packs failed, so that's good enough for me!"
"What an absolute beast of a machine my 1700rc black portable jump starter. I had an incident where I was using on a customers vehicle a Toyota hrv had run over my pack unsure if any damage I spoke to head office who advised me on what to check in terms of damage outside and inside and to my surprise it is unscathed my power pack is subject to alot of use in my job as a vehicle technician roadside assistance I cannot fault this pack in anyway simple easy lightweight all round great machine highly recommended anyone thinking about buying one to do so you will not be disappointed"
"Wow! Talk about service, sent them a message earlier on regarding our pack not starting some of the bigger cars we work on, following discussions with the technical team we traced the cause to being an incorrectly supplied aftermarket battery, new battery purchased from portable power ( cheaper than the suppling company's battery!😉) up and running with the correct battery. Well done"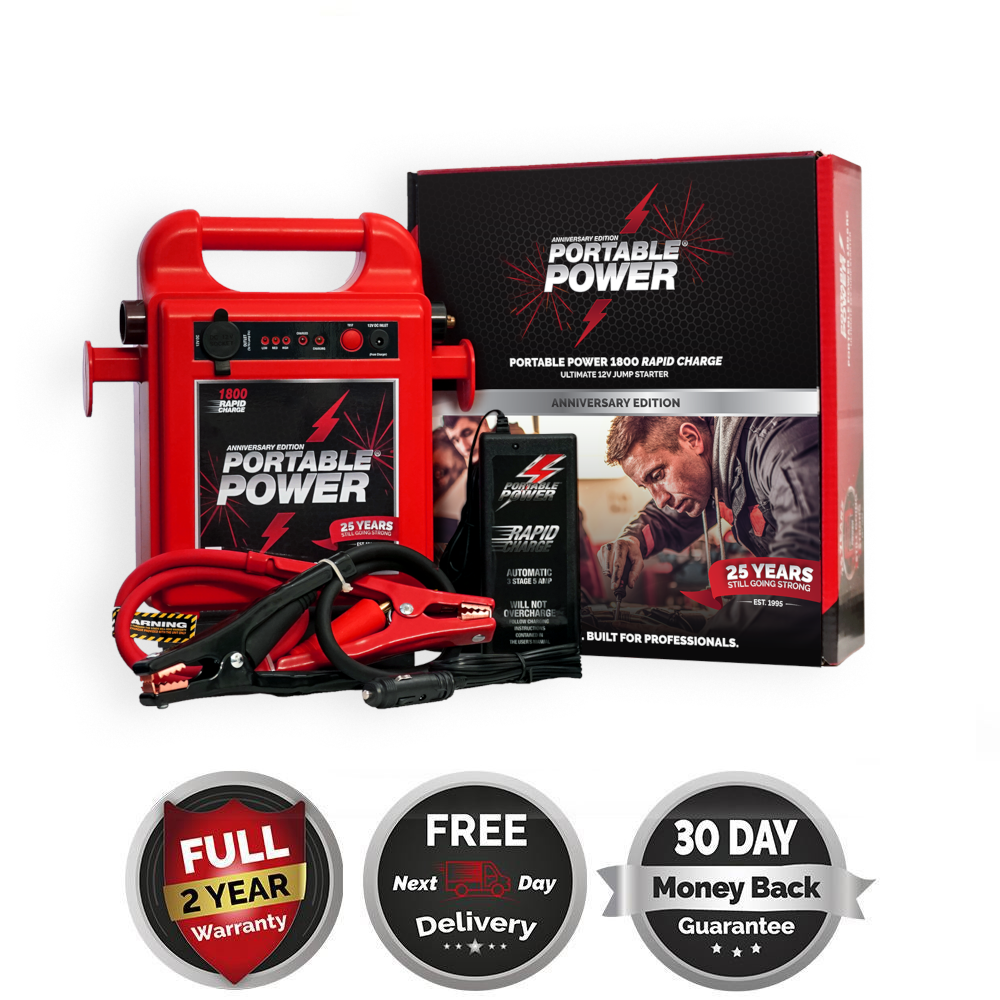 12v Portable Power 1800RC (Rapid Charge) Pack
The UK's favourite power pack has just been upgraded with a new 24 amp high rate battery to boost it an extra 100 peak amps.
Buy Now